Fauna of Carnarvon Gorge
Due to the permanent artesian water, the comparatively good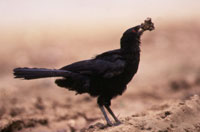 rainfall, and the wide range of habitats present, the Gorge has high biodiversity and strong populations of wildlife. Over 210 bird species have been recorded in Carnarvon National Park, 173 of which have been recorded within Carnarvon Gorge. Mud nest building Apostlebirds and White-winged Choughs (pictured right) are common around the accommodation centres, whereas less common birds such as Squatter Pigeons and Peregrine Falcons require a little more effort to locate.
A number of species reach their western distributional limit in the area, including some of the more frequently seen birds such as Australian King Parrots, White-browed scrubwrens, Lewin's Honeyeater, and Golden Whistlers.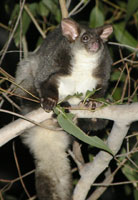 Carnarvon National Park has at least 54 native mammal species, around twenty of which are bats. As with birds, some of the Parks' mammals are found no further west including four of the five species of glider that frequent Carnarvon Gorge. The Gorge's gliders are the focus of Australian Nature Guides' Nightlife Tours. Five of the country's six species occur here, and Australian Nature Guides' Nightlife Tours usually encounter the largest two - the Greater Glider (pictured left) and the Yellow-bellied Glider.
Greater Gliders are folivores and occur in some

density along Carnarvon's creek flats. They are the largest of Australia's gliders and are impressive to observe, reaching nose to tail lengths of over a metre. Yellow-bellied Gliders are smaller than Greater Gliders, but they make up for lack of size with charisma. Their varied diet, rich in carbohydrate, gives them the energy to get up to lots of mischief and they are the species most regularly seen gliding (pictured right) on Simon's Nightlife Tours.
Other species encountered on the Nightlife Tour include all the Gorge's macropods (Eastern Grey Kangaroos, Swamp Wallabies, Pretty-faced Wallabies and Rufous Bettongs), as well as possums, bats, owls, Bush Thick-knees, and the occasional Koala. It must be said, however, that Koalas are indeed a rare sighting. In the Southern Brigalow Belt they achieve the lowest population density within their range in Queensland at around one per 150 square kilometres.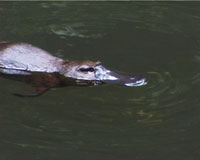 Carnarvon Creek holds healthy populations of Platypus and its adjacent flats suit Echidna. The lower reaches of the creek are the best places to try and see Platypus - from the Nature Trail to Takarakka. Platypus will tolerate moderate levels of noise from their environment, but will disappear in response to sudden movement. If you stay relatively still whilst watching them you can hold a normal conversation without frightening them.
One thing you do need to know about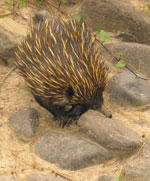 Carnarvon Gorge's Platypus is that they burrow far under the banks. This means we should think twice about approaching close to the creek to look for them as we are heavy enough to collapse the burrow of the animal we are trying to admire.
A good place to be aware of Echidna is Mickey Creek, whose cool, open environment allows them to forage more often. They are quite noisy creatures, and will give away their presence as they rustle through the leaf litter - providing you are moving quietly enough to hear them before they hear you.
The Park's reptile list is as long as your arm, but the nasty ones with no legs (snakes) are generally inactive during the peak winter visitation period. In Spring and Summer, sunny patches of forest beside the tracks will be alive with a wide variety of skinks, and at night the Gorge's magnificent geckoes will emerge.
Carnarvon Creek is teeming with life, but most of it will remain hidden during the day for fear of being eaten. Much of the creeklife is invertebrate as it plays host to the early stages of a broad range of insects. Turn over a rock in the creek and you are likely to see its underside literally crawling with life.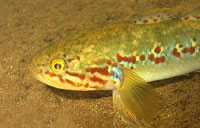 Several turtle species live in the creek, and they can grow to a considerable size. Look for them sunning themselves on boulders in the latter part of the day around the Rockpool. Fish life is also strong, including tiny hardyheads, rainbow fish and pugnacious Purple-spotted Gudgeons (pictured left) and the larger Spangled Perch, Golden Perch, Bony Bream and Long-finned Eels.
Despite the frequency of visitation to the Gorge, Carnarvon National Park as a whole remains little researched from a biological perspective. Local researchers believe that much awaits the gaze of science in the remote tablelands and gorges, and if we look after the Park properly then it should hopefully be there when we get around to searching the place properly. Having said that, it is pertinent to note that there appear to have been several species with major population reductions in the Park, including Brush Turkeys and Northern Quolls.