Where is Carnarvon Gorge?
Carnarvon Gorge lies approximately 600 km NW of Brisbane and 300 km SW of Rockhampton at around the same latitude as Bundaberg. Road access from the state capital involves a 9-10 hour 750 km trip via Roma and Injune.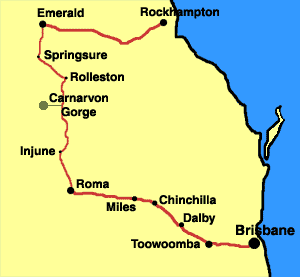 By road from the north, access to Carnarvon Gorge is via Rolleston. Sealing the last dirt stretch of the Carnarvon Developmental Road between Injune and Rolleston has been completed, however there is still 18 kilometres of dirt road to be negotiated between the Highway turn-off and Carnarvon Gorge.
This final stretch involves several creek crossings and local conditions should always be ascertained before starting your trip as the road can become impassable at times even to 4WD vehicles after substantial rain.
Recommended top speeds on the dirt stretches are 40 to 60 km/hour to reduce the risk of rupturing a tyre - it's a long way to the nearest service station - or worse, rolling your vehicle. Drive according to the condition of the road. The most punctures and accidents occur when the road is covered in loose gravel so take it easy when that is the case. For most of the year Carnarvon Gorge is easily accessed by a conventional car with appropriate care.
Public transport to the Gorge is non-existent, however several coach tour operators include Carnarvon Gorge on set itineraries including Australian Pacific Tours, Oz Explorer, Fun Over 50,
There are also a few chartered coachlines with years of experience bringing groups to the Gorge such as Original Tours out of Brisbane, and Topline Coaches.
If you are unsure about driving conditions or would like a local road update, phone the Park Rangers on (07) 4984 4505 or Australian Nature Guides on (07) 4984 4529.