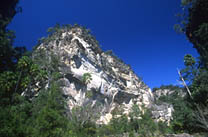 Visiting all the sites in the Upper Gorge involves around 22 kilometres, depending on how far up Boowinda Gorge you venture. There are toilet facilities at Big Bend, but always carry spare toilet paper as you will be in strife if the roll is out.
The Main Track.
Beyond crossing 10, the Main Track is far less travelled and narrows considerably as a result. Some of the Gorge's best cliff scenery is to be had along the upper section of the Main Track. The major rockfall on the far side of the Gorge between crossings 12 and 13 is hard to miss, and there are other less substantial falls further up.
Between crossing 17 and 18, the cliffs are so close and so high they are difficult to take in. This is also the first place up the track that you can see the creek actively eroding cliff if you are observant. All the sites in the Upper Gorge are basically at the same level as the Main Track, which is a blessing considering they are around 10 kilometres from the Information Centre.
Big Bend.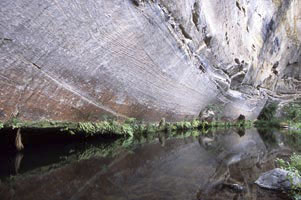 Access: Follows on from the Main Track.
Distance (one way): 560m.
Track Class: 3. Easy walking, some rough terrain and close vegetation. Two unmarked creek crossings.
Average Walking Time: Allow 10 to 15 minutes from the end of the Main Track
In effect the track to Big Bend is a continuation of the Main Track, which technically ends at Cathedral Cave. No further creek crossings are numbered beyond Crossing 20. Big Bend is a campground located on a lovely bend in Carnarvon Creek. It is the only campground in the Gorge open all year round. The toilet facilities are accompanied by a limited number of flat campsites, which must be booked, and a picnic table.
The maintained track ends here, but walkers are permitted to explore further if they wish - providing a remote bushwalking form has been submitted to the Rangers as beyond this point walkers are off the track system.