Morning Tour.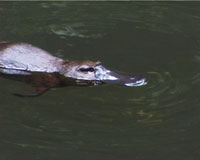 The Morning Tour, like the Nightlife Tour, is focused on wildlife. Starting just after dawn, Simon takes guests on a gentle stroll through the park at a time when the Gorge's diurnal animals are at their most active.
Platypus are a target species, and Simon will visit the most frequented pools in the hope of catching a glimpse of these cryptic creatures. Along the way, a large number of the Gorge's birds will be active in the forest - searching for breakfast.
Simon's knowledge of their habits and calls will ensure you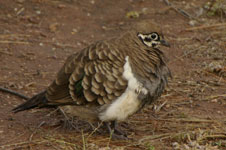 spot as many species as possible and come away with a good understanding of their place within the local ecology. Many of the Gorge's birds are showy and well-known whilst others, such as the Squatter Pigeon (below), are have an understated beauty that Simon can help you appreciate.
This is a great tour if you would like to learn some basic wildlife watching skills. Simon provides binoculars and field guides and can show you how to use, and choose, these invaluable wildlife watching tools.
Bookings: Email us directly or find us at Carnarvon Gorge Visitor Information Centre next to Carnarvon Gorge Wilderness Lodge.
Availability: Daily on demand.
Minimum Group Size: 2.
Duration: 1 - 1.5 hours.
Terrain: Flat, easy walking with two creek crossings.
Cost: $20 per person.
Inclusions: We provide binoculars, and a hot cuppa to end the tour. Feel free to bring your own binoculars if you wish.
Bring: Warm clothing.